In the Otways, rainforest occurs at a great number of locations between Lavers Hill and the headwaters of the Cumberland River. The greatest concentration of rainforest is in the Aire Valley.
Location Map of Otway Cool Temperate Rainforest(243KB)
Otway Cool Temperate rainforest is a plant community that dates back 140 million years to Gondwana when dinosaurs roamed the earth. The primary canopy tree is myrtle beech (Nothofagus cunninghammii) which requires a damp wet environment, free from bush fires, to survive. Unlike eucalypt species, myrtle beech trees are not adapted to bushfires. Myrtle Beech trees and their seeds are killed by fire.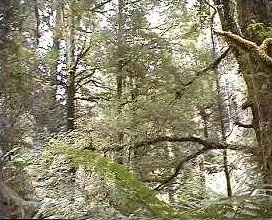 Cool Temperate Rainforest at Ciancio Creek
Rainforest exists in the Otways due to the region having a high rainfall (the highest rainfall in Victoria). The wet environment has been a refuge for the Cool Temperate Rainforest plant community as the Australian landscape has dried out over millions of years.
The Otways contains the most western populations of Cool Temperate Rainforest in Australia.
Otway rainforest occurs most extensively on the southern fall of the ranges. On the northern fall of the ranges, rainforest is restricted to high elevation, high rainfall areas where cloud cover is more persistent.
On the mainland of Australia, Otway rainforest has the closest floristic resemblance to cool temperate rainforests in Tasmania.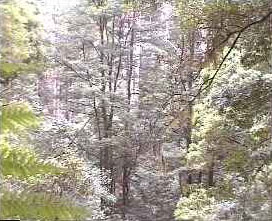 Cool Temperate Rainforest at Glasgow Falls area.
Despite the Otways being a wet refuge for Cool Temperate Rainforest, only 11.8 square kilometres of pure myrtle beech rainforest remains on public land. Of this 3.6 sq km is in permanent parks and reserves. The other 8.2 sq km is located in State Forest and vulnerable to disturbance from clearfell logging operations. (Source: Otway Forest Management Plan. 1992)
Another 32.4 sq. km of myrtle beech and blackwood mixture is classed as wet and damp Sclerophyll forest. If left undisturbed this mixed forest may grow into stands of pure cool temperate rainforest over hundreds of years.
European Impacts on Rainforest
For the experts summary on human impacts to Otway rainforest see extracts from Rainforests and Cool Temperate Forests of Victoria.
Since European settlement, much of the Otway forest has suffered disturbance such as logging, roading, clearing for agriculture and, in more recent times, tourism. The proportion of original old growth rainforest has diminished in the Otways. For example, the township of Beech Forest is named after a tree that can no longer be seen in the local area.
Despite past disturbance, old growth myrtle beech rainforest represents a large proportion of the remaining old growth forest in the Otways. If this rainforest is altered by artificially elevated levels of the myrtle wilt disease, then the Otway forests will have a structure that has been almost totally altered by European influences. Future generations of Australians will be unable to experience the original physical and spiritual nature of the forest.